Chipus Microelectronics Renew ISO 9001 certification
The Brazilian company with presence in foreign markets received the quality management and high performance certification
Focused and specialized in ultra-low-power IC Design, Chipus Microelectronics recently received the ISO 9001:2015 certification. With an important part of its activity concentrated in the international market, especially in the USA, Europe and Asia, the company today has more recognition on the quality of the solutions delivered to its customers.
The ISO 9001 – International Organisation of Standardization – it's a standard that provides guidance and tools for companies and organizations who want to ensure that their products and services consistently meet customer's requirements and that quality is consistently improved. This standard is based on a number of quality management principles including a strong customer focus, the motivation and implication of top management, the process approach and continual improvement. In the case of Chipus, the standard was applied for Integrated Circuits Design.
"The certification confirms to the market that we are concerned about delivering our services in a standardized way and, consequently, with the quality expected by the client. Internally, the implementation of the system – and, of course, the certification – is helping us to manage our processes, making them more efficient, focused on delivering to the customer and improving them continuously", highlights the CTO of Chipus, Paulo Augusto Dal Fabbro.
Ever since February 2016, Chipus has been working in a quality management system using an external consultancy with the Serviço Nacional de Aprendizagem Industrial (SENAI/SC). "Throughout this time, of approximately two years, the system has been improved and we understand that now was mature enough to apply for the certification", mentions the Financial Manager of Chipus, Vanusa Uller, who accompanied the consultancy.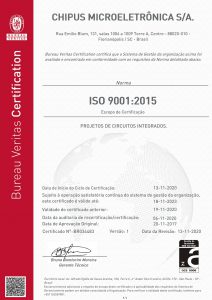 In general, the foreign market, especially the European where Chipus also has customers, is very demanding when establishing new suppliers. This is another important point in obtaining a certification of this nature, which can give even more strength to Chipus on new international and local business. "We understand that the certification will ease this process, increasing Chipus's credibility in front of the market", says Paulo Augusto.