We deliver a high level of customer service
Chipus is a leading IC Design services provider, with more than 200 IPs in our portfolio and experience from 0.35μm down to 40nm. We have worked closely with customers and gained a unique understanding of the specific needs of today's market demands.
Our IC layout services are the result of that expertise and allows us to deliver a comprehensive range of options to our clients. Furthermore, we provide a full custom design that is area and signal integrity aware. We are able to adapt to our customers' specifications while following our quality process that is ISO9001:2015 certified.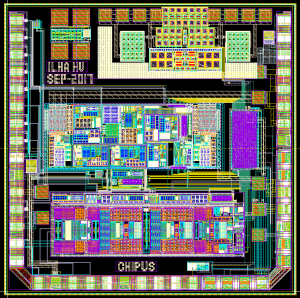 Analog and mixed signal building blocks
High precision mixed-signal circuits
Layout with HV devices
Full chip integration (Analog-on-top or digital-on-top)
Integration of high power with high accuracy circuits
Experience with CMOS, BCD and SOI
Li-Ion Battery Charger IP
Configurable charge current up to 1.5A with USB charging interface – 0.18µm BCD
DSP ASIC for High Speed Communication
ASIC Digital Backend implementation for communication applications – 7nm FINFET
Galvanically Isolated Delta-Sigma ADC
64MHz Continuos time 3rd order Sigma-Delta modulator – 0.18µm CMOS
RFID ASIC
EPC Global Gen 2 ASIC with integration of ultra low power NVM from Synopsys – 0.18µm CMOS
Temperature Sensor IP
Temperature Sensor IP with built-in references and digital readout – 22nm SOI
Magnetic Sensor ASIC
Full ASIC for innovative Magnetic Sensor – 0.13µm CMOS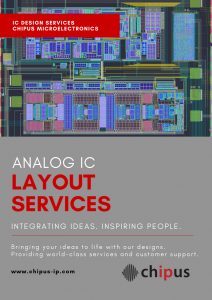 Find out more about Chipus analog IC layout services and solutions for your project needs
We have taped out to major foundries
Range of technology nodes from 350nm to 22nm
Your complete IC Design solution in one place
Chip your ideas with us!
+55 48 3365 2740
USA Office
5201 Great America Parkway Suite 320 Santa Clara, CA 95054
Design Center
Rua Emilio Blum, 131 • Sala 1006 Florianópolis • SC
88020-010 • Brazil