Converting to ASIC
An FPGA-based design can be converted into an ASIC in order to reduce costs and optimize performance. Even though the lower unit cost of an ASIC has been a key motivator for conversion, the reasons can go far beyond the cost savings: reduction PCB area, increase battery lifetime, increase IP protection or even as a solution to the problem of FPGA obsolescence.
Whether converting from an FPGA to a low-cost ASIC is the best option for your project, Chipus helps you define what is the best solution for needs and requirements.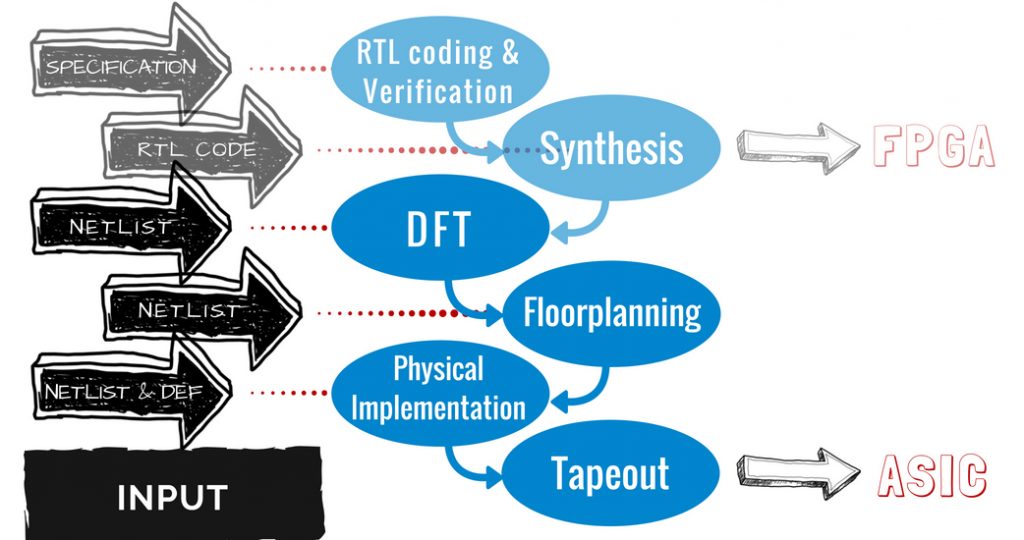 Control over the supply chain
Higher Performance
Lower Unit Cost
Lower Power Consumption
Lower Unit Size
Advantages in converting to ASIC
Total control on the supply chain
The part is pin to pin compatible by design
The existing firmware is 100% reused
Existing PCBs are 100% reused
No risk of obsolescence of parts
Solve product obsolescence issues
A concrete problem several customers are facing is the obsolescence of parts. As a concrete example, Intel has been notifying, through their product discontinuance notices, that several products, including FPGAs, will be discontinued soon.
Chipus helps you plan ahead and avoid losing market while ensuring functionality and reusing firmware and PCB.
Not sure if it's the best option for you?

Get in touch with our design team !
Upgrade from FPGA to ASIC. Integrate more features!
In case the solution demands a conversion from FPGA to ASIC, it is the perfect time to integrate more features and further reduce bill of materials and PCB area. By integrating more functions than the pure logic from FPGA, the end product can achieve lower power consumption, cost less and become physically smaller. On top of these advantages, there is the intrinsic protection of intellectual property and robustness of custom chips.

Advantages of conversion:
Potential Smaller Footprint

Lower Power Consumption

Opportunity to integrate other features

Innovation
Chipus' team provides support throughout the converting process delivering the accurate solution according to your needs and faced problem. Within the company's expertise and the decade of experience in IC design, the FPGA to ASIC conversion is more reliable and secure, helping achieve the best solution for you while reducing the overall cost of the product.
Our interest and goal are to provide you with the best tailored solution, guidance and customer support while we deliver full turnkey solutions with our high-quality standards.
Your complete IC Design solution in one place
Chip your ideas with us!
+55 48 3365 2740
USA Office
5201 Great America Parkway Suite 320 Santa Clara, CA 95054
Design Center
Rua Emilio Blum, 131 • Sala 1006 Florianópolis • SC
88020-010 • Brazil